Look at this glorious sunset.  NO FILTER BITCHES.
I actually prefer the after-sunset.  Sunsets are overrated, if you ask me.  Ok, giant ball of fire, go light up another part of the world. But the afterglow, the light on the sky and clouds changes for up to an hour after the sun has set.
I have the privilege of living by the beach.  In recent years I have complained a lot about this fact.  Living in a Get Away From It All destination has it's disadvantages.  In my experience, the behavior of people who visit the beach areas often involves a lot of yelling and drinking and treating the area like a college fraternity block party.  I sometimes want to yell out of my balcony, "WE'RE NOT ALL ON VACATION!"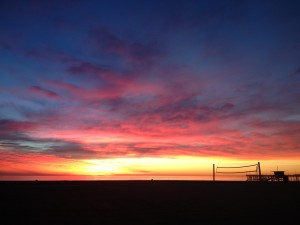 Someone recently told me that some Venice residents held a protest of these "Bridge & Tunnel" people. I wouldn't go that far.  I do understand that I do not own the beach.  And even if I could afford to buy it and put up a big "Do Not Disturb" sign on a couple of acres of land and sea, I know that would be wrong.  Because to live near the beach also means that I get to watch sunsets like these. And I wish such an experience for everyone in the world. YES I WILL USE THE WORD "MAGICAL."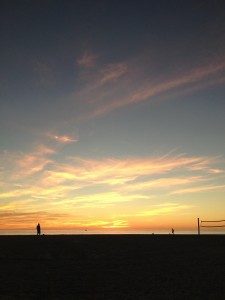 Beautiful sunsets are LA's winter's bounty.  Why I don't hear songs and other praise for LA in the Winter always struck me as odd.  The air is so clear.  It's cold (but LA cold).   And every night is just one glorious sunset after the next.
On some nights I run out to the beach with my camera and think "Why is everyone in world not watching this right now?" Then other times I'll think, "Oh, there's another dumb sunset."  WHY DOES GOD MOCK THIS CRUEL WORLD?
But either way, I go out and take a picture and think about how fast the world is moving.  And then I rush home to turn on my computer and check email and Twitter.
Just for today, I love LA in the winter.